Nowadays, businesses are moving their operations online and relying on digital technologies to perform essential tasks. The rise in technology has given rise to the importance of cloud computing, as many companies rely heavily on data storage and processing solutions.
Cloud computing offers businesses many benefits beyond cost savings from reduced hardware costs, including improved agility, scalability, cost savings, data security, and offers.
However, some business owners remain resistant to adopting this technology due to concerns over control, integration, reliability, and compliance. Let us explore how cloud computing can benefit your business by addressing these common barriers to adoption.
Cloud Computing Statistics
Cloud computing has experienced rapid growth over the past decade and continues to expand at an impressive rate. Here are some recent statistics highlighting the popularity and impact of cloud computing: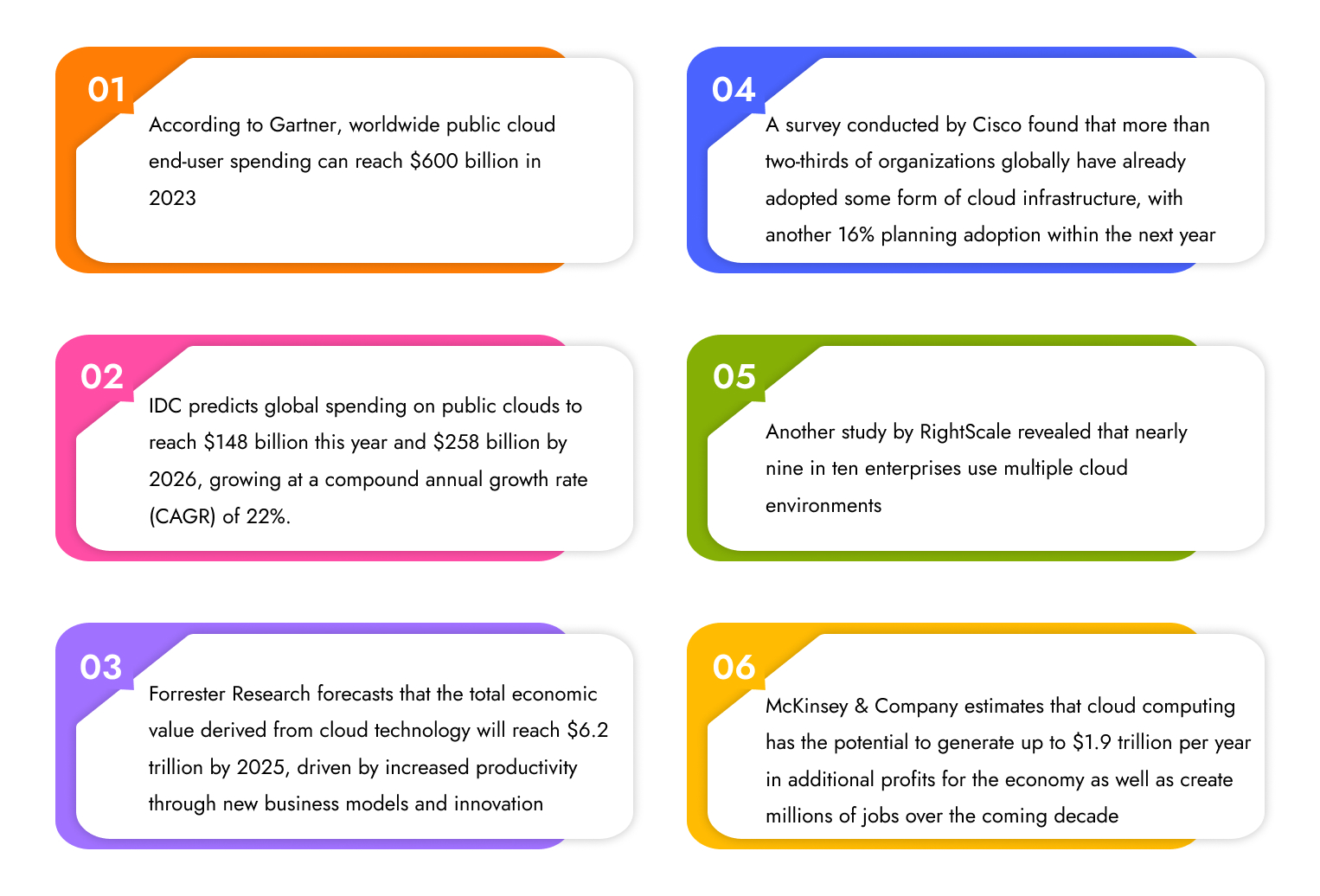 According to Gartner, public cloud end-user spending can reach $600 billion in 2023.
IDC predicts global spending on public clouds to reach $148 billion this year and $258 billion by 2026, growing at a compound annual growth rate (CAGR) of 22%.
Forrester Research forecasts that the total economic value derived from cloud technology will reach $6.2 trillion by 2025, driven by increased productivity through new business models and innovation.
A survey conducted by Cisco found that more than two-thirds of organizations globally have already adopted some form of cloud infrastructure, with another 16% planning adoption within the next year.
Another study by RightScale revealed that nearly nine in ten enterprises use multiple cloud environments.
McKinsey & Company estimates that cloud computing can generate up to $1.9 trillion per year in additional profits for the economy, as well as create millions of jobs over the coming decade.
These figures demonstrate the tremendous growth of cloud computing and underscore its increasing importance in shaping the future of IT and business. As cloud usage expands further across industries and geographies, it will continue to reshape how we think about technology and drive innovation in ways yet unimagined.
Types of Cloud Computing
There are three main types of cloud computing services: Infrastructure as a Service (IaaS), Platform as a Service (PaaS), and Software as a Service (SaaS). Let me explain each one in detail.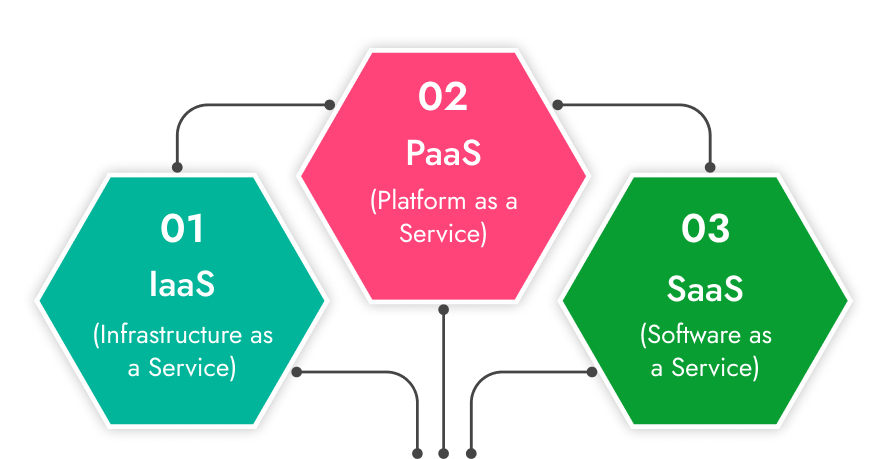 IaaS (Infrastructure as a Service): This refers to virtualized computing resources over the Internet such as storage space, servers, network bandwidth, and virtual machines (VMs). It allows customers to rent computing resources rather than buy and manage their hardware.
Companies can create customized infrastructure tailored to their specific needs and adjust according to the demands. A few examples of IaaS include AWS EC2, GCP Compute Engine, Azure Virtual Machines, and Alibaba Elastic Compute Service (ECS).

PaaS (Platform as a Service): PaaS is built upon IaaS and is a platform that developers can use to develop, test, deploy, and manage software applications. These platforms provide tools to simplify application development, such as integrated development environments, database management, version control, testing frameworks, authentication, etc.
A few examples of PaaS are AWS App Runner, GCP App Engine, Azure App Service, Heroku, and Oracle PaaS.

SaaS (Software as a Service): It delivers fully functional applications via the Internet that people can quickly use and subscribe to. SaaS vendors handle everything from server management, updates, and patches to bug fixes. The users can connect and begin using the apps while receiving automatic updates.
A few popular SaaS offerings include Salesforce CRM, Dropbox, Workday Human Capital Management, and Zendesk Support.
Apart from these core services, other types of cloud computing such as Function as a Service (FaaS), are rapidly growing and are used specifically for developing serverless architectures.
Each cloud service provider may offer different combinations of these primary service categories.
What is the importance of cloud technologies for businesses?
Cloud computing is becoming increasingly popular among businesses because it provides several key benefits such as flexibility, scalability, speed, cost savings, and easy access to applications from anywhere.
Additionally, businesses using cloud computing can focus on their core activities without managing physical resources like servers and hardware. This reduces overall IT costs and eliminates the expensive downtime associated with traditional on-premise systems.
Cloud computing allows businesses to leverage technological advancements and drive efficiencies while reducing operational risks. Here are some reasons why cloud computing is crucial for businesses: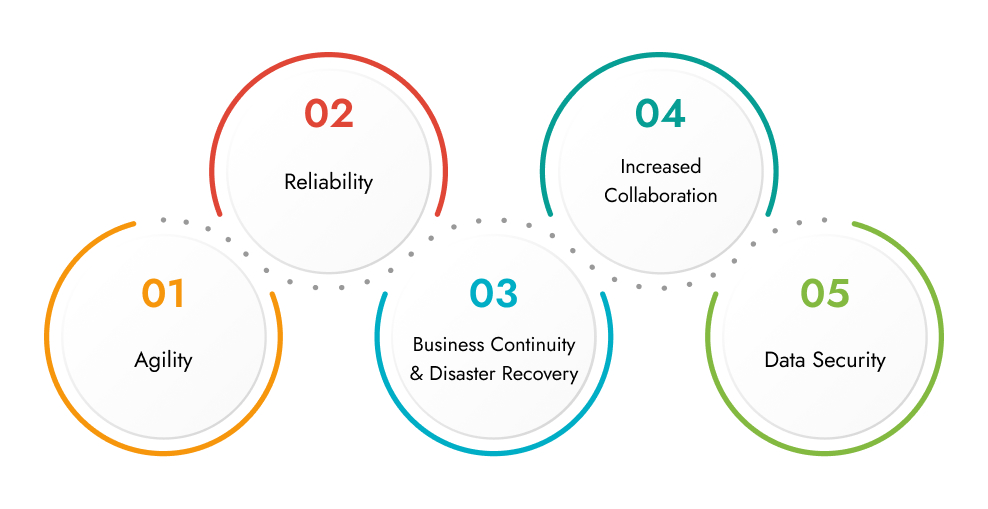 Agility: Agility is one of the key benefits of cloud computing. It enables businesses to adapt quickly to changing market conditions, customer needs, and emerging opportunities. Cloud computing helps companies scale up or down resources such as servers, storage, bandwidth, and applications as required. It offers responsiveness and flexibility compared to traditional hardware-based solutions.

Reliability: Cloud service providers deploy architectures that offer auto-scaling features. It makes it possible to handle unexpected workloads efficiently. This results in improved applications with minimum downtime, hence benefiting end customers.

Business Continuity and Disaster Recovery: No matter how secure your system is, there are always things that are not in your control. In today's market, even a small downtime can wrongly impact your brand's reputation. In such a situation, cloud services are the savior.
Cloud computing makes business continuity easier by allowing employees to securely access relevant workloads via the Internet during natural calamities or other harmful events.

Increased Collaboration: Cloud computing helps teams to collaborate efficiently. Teams can access and share documents by storing them in the cloud repositories. It makes remote working easier compared to previous-generation VPN or VDI solutions. Collaborative editing tools enhance teamwork and help virtual teams function effectively and efficiently.

Data Security: Cloud computing providers follow industry-standard certifications or practices covering multi-factor authentication, access management, encryption, logging or monitoring, network segmentation, and more; while developing robust security frameworks to protect sensitive customer data.
Other than automating audits, cloud deployments allow organizations to implement strict policies for role-based access controls, thereby improving chances of identifying security breaches faster.
Cloud service providers usually offer round-the-clock technical support that ensures smooth operations and high availability of services throughout the year, thus reducing the risk of system failures.
How is cloud computing transforming the business world?
Cloud computing has revolutionized the way businesses manage their operations. By leveraging the power of the Internet, companies can now store their data remotely and gain easy access to powerful computational resources that were previously only possible with on-site servers.

Many businesses are shifting to cloud computing to save money, improve operational efficiency, and streamline their processes. Here are some of the key benefits of cloud computing for businesses: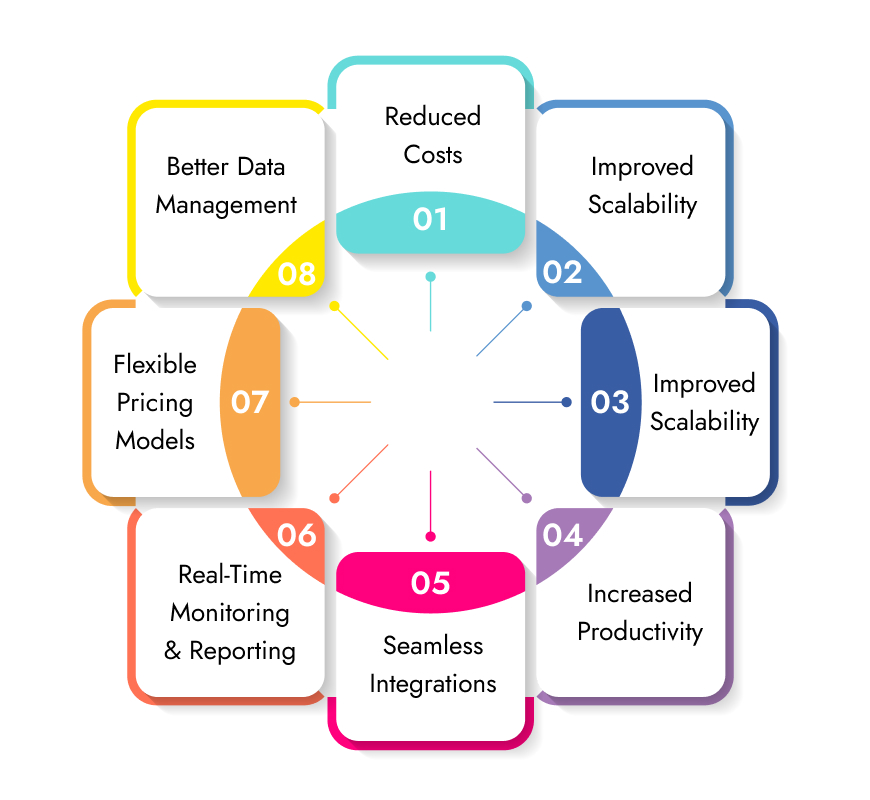 Reduced Costs: One of the main benefits of cloud computing for small business owners is its ability to reduce costs. Cloud services allow businesses to use the same information from different locations cost-effectively. Not that this solution saves lots of time and offers value to the businesses. Also, they can save money by avoiding ongoing maintenance fees related to backups, patching, upgrades, etc.
Furthermore, instead of investing in expensive hardware, software licensing fees, and other resources, businesses only need to pay a monthly subscription fee based on usage. As a result, they can scale up or down, depending on demand, without paying any high amount. Additionally, since cloud service providers handle maintenance, troubleshooting, and updates, businesses save money on IT support staff and equipment replacement.

Improved Scalability: Another main advantage of using cloud technology for small businesses is improved scalability. Since cloud systems are hosted offsite and managed by third parties, they can scale back or scale up their use of resources.

Enhanced Collaboration: For small businesses where employees often work from remote locations, cloud computing makes collaboration easy and efficient. The teams can collaborate on projects from anywhere by accessing the documents and applications via the Internet; thereby offering maximum agility and efficiency.
In addition, the availability of real-time communication tools like messaging apps, video conferencing, and file sharing makes it simple to coordinate efforts even if team members are not physically present in the same location.

Increased Productivity: Small businesses can boost productivity by leveraging cloud technology. With ready access to data, employees can complete assigned tasks and responsibilities from wherever they are working. It enables businesses to achieve faster turnaround times, meet tight deadlines, and deliver high-quality output consistently.
Moreover, the ability to easily track and monitor employee activities increases accountability and motivates workers to focus more effectively on priorities.

Seamless Integrations: By utilizing cloud services, small businesses gain access to various application programming interfaces (API) and connectors. It enables them to integrate multiple programs and platforms into one system.
Automatic updates ensure that integrations stay current, minimizing downtime and promoting continuous operation. As a result, workflows become smoother, reduce errors and delays, and allow personnel to concentrate more on strategic initiatives than administrative duties.

Real-Time Monitoring and Reporting: With cloud computing, businesses can get real-time insights into how their products are performing, customer behavior, etc. Cloud platforms provide small businesses with advanced analytics features, dashboards, and metrics that allow entrepreneurs and their teams to observe performance indicators in real-time.
With customizable alert notifications, stakeholders receive instantaneous insights into areas, enabling them to take action proactively should issues arise. Moreover, cloud solutions often come bundled with preconfigured reports that accelerate decision-making procedures. It allows businesses to make data-driven decisions that can drive revenue growth and profitability.

Flexible Pricing Models: Cloud providers offer flexible pricing structures for their services. They ensure fixed prices that allow small businesses to subscribe to the number of resources they require for their specific needs. Companies can scale up or down services quickly and adapt to fluctuating demands, market conditions, and industry developments. Such elasticity eliminates the burden of overspending on unnecessary resources.
Furthermore, a pay-as-you-go model lowers the financial risks associated with traditional fixed-cost arrangements. Overall, flexible pricing offers financial stability during unpredictable economic cycles, helping businesses to sustain profitability and longevity.

Better Data Management: Cloud computing enables improved data management, stores data in the cloud can be accessed through a secure portal, and can be managed and organized more easily.
Additionally, cloud service providers offer advanced features such as data backup and disaster recovery that ensure data is always protected, secured, and recoverable.
To conclude:
In summary, cloud computing offers numerous advantages that make it attractive to small and large businesses. By leveraging cloud services, companies can increase their operational efficiency, improve scalability and flexibility, reduce costs, enhance data security, and gain access to advanced technologies without significant upfront investment.
Additionally, cloud providers offer reliable and efficient support services, ensuring minimal downtime and seamless operations. While there may still be some concerns around privacy and data control, many of these can be addressed by carefully selecting a reputable provider and implementing effective safeguards. So, if you are looking for a perfect cloud computing partner for your business, contact us.
We at jiWebHosting, offer the most trusted cloud hosting services that have helped numerous businesses grow around the globe. Schedule a meeting today.